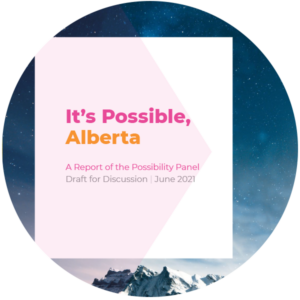 The oil and gas industry has been very good to Alberta, and for many Albertans, for a very long time. It has created jobs, supported livelihoods, and enhanced prosperity for millions of people. It's also facing an existential threat that can no longer be ignored: climate change. Net-zero emissions plans are being announced by governments, corporations and financial institutions almost by the day, and it's increasingly clear that everyone from corporate leaders to elected officials are getting serious about reducing emissions.
For Alberta, this is the best of times and the worst of times. It's the worst because an industry that has been a huge driver of jobs and tax revenue is clearly entering a transitional stage, where business as usual will yield diminishing returns. But it's the best of times because Alberta is well-positioned to take advantage of the energy transition that's underway — and use its many assets and resources to build an economy that will prosper for generations to come.
Over the next two decades, there will be trillions of dollars spent around the world on reducing our collective carbon footprint in everything from the energy we use to the buildings we work and live in. If Alberta treats this like an opportunity rather than a threat, we can attract some of that capital and use it to both build new industries and help existing ones adapt and evolve.
That will mean taking advantage of our abundant solar and wind resources – Alberta has some of the best such resources in North America. It will also mean growing opportunities in carbon capture, utilization, and storage (CCUS), which will both reduce emissions from our existing industry and use the carbon they create to build new products. It will mean investing in hydrogen, an increasingly attractive source of low-carbon energy that Alberta can produce at highly competitive costs. It will mean taking our inventory of old oil and gas wells and capturing the geothermal energy that is stored beneath them, an investment that could both repair existing environmental damage and produce clean baseload energy. And it will even mean supporting the development of a lithium industry evolved from our oil and gas assets, a new industry that will feed the world's growing demand for electric vehicles and the batteries that power them.
We've already seen announcements about new projects in some of these areas, and even some co-operation between the federal and provincial governments, and this has to continue. We will need to significantly raise the bar on these initiatives and on our level of ambition on this issue, lest we risk getting left behind and leaving a far less prosperous province for future generations.
That will take courage, creativity, and a willingness to be honest with ourselves, as citizens of Alberta and the ultimate owners of our oil and gas resources, about what's happening in the world right now. But the good news is that, starting with our greatest resource of all – our people, we have everything we need to make it happen in Alberta.
The Possibility: Alberta can turn the global energy transition from a risk into an opportunity and become a leader in the transition to a low-carbon emissions global economy not in spite of but because of our natural resources.
---
AOSTRA 2.0

When Peter Lougheed was first elected Premier in 1971, the oil sands were still far more of a science project than a viable industry. But Lougheed's government set out to close that gap with something

...

Read more...

Zero for Zero

The federal government has already announced its intention to reduce the corporate tax rate paid by companies that produce zero-emission products. Alberta should piggyback on that effort by announcing

...

Read more...
Push your idea
Login
0

/2000
Leaderboard
Most Votes
Top Ideas
Most Ideas
Share These Ideas