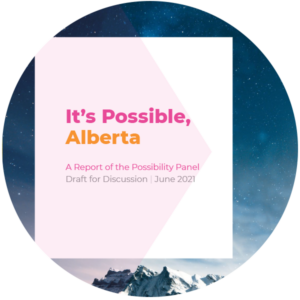 If the 20th century was defined by battles for territory and resources, the 21st will be about the war for talent. As the global economy is transformed by knowledge and technology, it will be the regions and cities that most effectively attract and retain talent that will be most successful. Alberta has all the pieces in place to compete effectively for talent — but there is still work to be done. 
Our advantages in terms of attracting talent are numerous. First and foremost, Alberta is a great place to live, with beautiful landscapes, affordable real estate and economic opportunities. It's also part of the great Canadian family, one that celebrates diversity, welcomes immigrants, and supports communities and individuals in their times of need. And our existing pool of talent and labour is one of the most educated and skilled in the world. 
For too many years, though, we've been able to rest on our laurels. High commodity prices and the high wages that resulted from the booming industries that ensued effectively did the heavy lifting when it came to attracting and retaining talent, and we saw hundreds of thousands of people from across the country and around the world flock to Alberta. 
That is not our reality today. We have to renew the case for Alberta — and make that case differently than we did in the past. We need to implement policies that appeal to the workers and entrepreneurs who will define the path of the knowledge economy over the rest of the century. While low costs and low taxes will appeal to some of these people, they are not the panacea that they might have been a generation ago. The people who are the drivers of a modern economy also want to work and live in a vibrant society, rich in arts and culture, where diversity is more than a buzzword, and new ideas are treated as opportunities rather than threats.
This isn't just about what's best for future generations. It's also about what's best for today's Albertans, who have children and grandchildren that they want to see succeed — and just plain want to see. If they have to leave the province to pursue their careers or find opportunity, that will strain and test the bonds of family and undermine a sense of community and stability the way it did in Saskatchewan and Newfoundland in recent decades. 
We can build a society that both attracts new talent to our province and gives current generations a reason to stay. The raw materials for it are already in place. But in order to build that society, we'll need to move past our historical grievances and grudges, open ourselves widely to the world, and embrace a spirit of forward-looking optimism and enthusiasm. 
The Possibility: We can make Alberta the place of opportunity for our own young people and for talented people from all over the world.
---
A $20 per day childcare program

The federal government has raised the ante on childcare in Canada with its latest budget, one that will see a massive new investment in spaces across the country. It's time for Alberta to call that be

...

Read more...

Employer Job Creation Incentive

There is no mistaking that, until recently, what has made Alberta such an attractive place to settle was, above all else, the abundance of employment opportunities accompanying a strong and growing ec

...

Read more...

A New Provincial License Plate

Our identity is shaped by the stories we tell ourselves, and the image we have of our community. And there arguably isn't a more visible or obvious part of a place's story than the one on its licence

...

Read more...
Push your idea
Login
0

/2000
Leaderboard
Most Votes
Top Ideas
Most Ideas
Share These Ideas